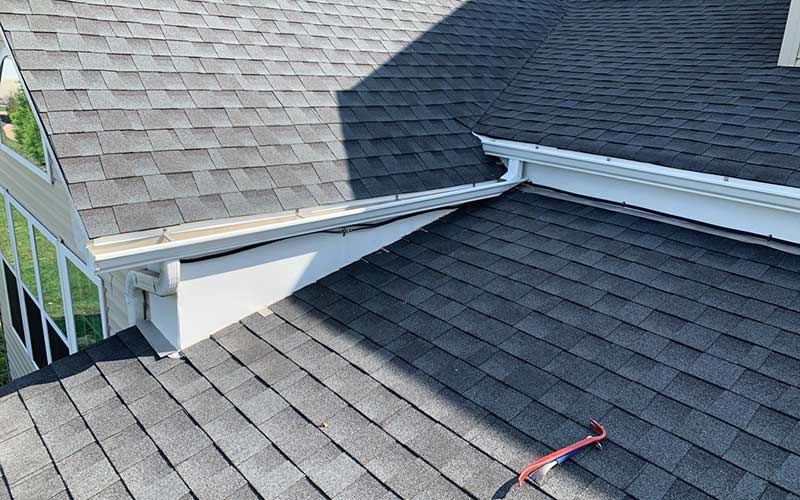 Wilmington, Ohio Gutter Services
Gutter systems in Wilmington, Ohio have it hard enough as it is. So it's important that you maintain your gutters and downspouts, to avoid any possible damages to your property. You can't hire just anyone to handle your system, you'll need a reputable roofing contractor in Wilmington. 
You'll find that West Chester Roofing not only carries the best gutter materials, but our team also has the experience and knowledge to properly install them. Give us a call to set up a free inspection!
Damages
We've listed just a few of the most common damages that arise from a neglected gutter system:
Mold and Mildew –

Mold/mildew originates when water is stagnant for a long period of time, so when your system is clogged this can be a product of that.

Basement Flooding –

When water overflows from your system, it can leak down into your basement and the lower areas of your home.

Yard Erosion –

Over time, water that flows down from your downspouts can potentially erode your yard.

Discoloration –

A leaky system will eventually discolor and stain your siding over time.

Insects –

A clogged system will attract mosquitoes and several other insects. If unattended, you may even have to call in an exterminator.
Types of Gutters
West Chester Roofing performs gutter installations for a variety of different systems and materials. Below we've listed a few of the most popular systems we have available, as well as their pros and cons.
Aluminum –

Aluminum gutters are becoming more and more standard place due to their affordability and easy installation. The only downside to them is that they can become easily dented in strong winds, storms, etc.

Steel –

Stainless steel systems are far more durable than aluminum and vinyl systems. However, they are a bit more costly when compared to these materials.

Copper –

Just like steel, copper gutters are very durable and have great curb appeal. And furthermore, they are also more on the pricey side.

Vinyl –

Also being affordable and easy to install, vinyl gutters are a great choice for those interested in cost-effectiveness. Just like aluminum, vinyl materials are easily damaged, especially in colder climates.

Wood –

West Chester Roofing does carry wooden materials for sale, but they're only recommended when it's more important to match the aesthetic of the home, rather than maintenance and repair costs.
Maintenance 
The best way to prevent any issues with your system is by performing regular gutter cleanings and maintenance. Our team recommends performing maintenance at least twice a year, one time in the fall, then another in the spring. It should be noted, you can always skip this process by installing gutter guards.
Gutter Guards
All types of gutter guards are installed over the troughs of your system. They reduce all necessary maintenance, are corrosion resistant, and extend the lifetime of your system. Contact our team today if you'd like this gutter protection product installed on your system!