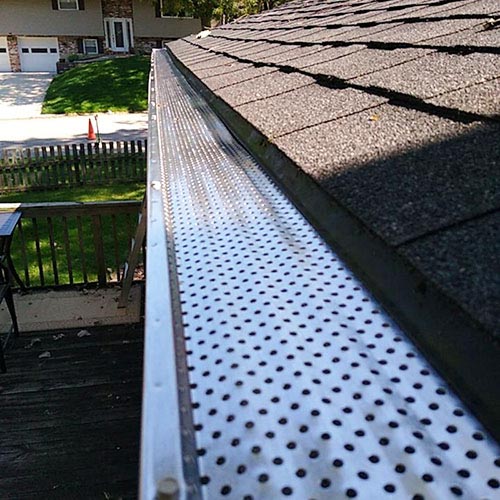 Damages
By neglecting your gutters, you could be looking at several different issues. Below we've listed a few of the most common damages resulting from gutter problems:
Mold and Mildew –

Mold/mildew is the result of clogged gutters, as stagnant water is the breeding ground for different types of mold.

Basement Flooding –

When your system can't handle high levels of water, it will eventually leak down into your basement, causing massive damages.

Yard Erosion –

When water doesn't flow away from your property properly, it will gradually start to erode and damage your yard.

Discoloration –

Excess water leaking down from your gutters can start to discolor and rot your siding.

Insects –

 

Mosquitos and other bothersome insects love to use dirty, stagnant water as their breeding grounds. Which makes clogged gutters the perfect home for them.
Types of Gutters
West Chester Roofing carries several different types of gutter materials and products; each having its own strengths and weaknesses. The types of materials we specialize in and sell are listed below:
Aluminum –

Aluminum gutters stand out due to how easy they are to install and their affordability. The only notable disadvantage of aluminum materials is how easily they can become damaged when compared to other materials.

Steel –

Steel materials are very durable and long-lasting. The only downside to steel is that they're a bit pricey.

Copper –

Like steel, copper materials are able to withstand heavy rains, winds, and snow. It should be noted that copper materials are also on the more expensive side.

Vinyl –

Vinyl gutters are lightweight, affordable, and easy to install. They are very popular with homeowners who are looking to stay within budget. But they don't last as long as other materials, and easily become damaged in the cold.

Wood –

We do install wood materials, but mainly on older/historic homes where it's more important to match the aesthetic of the house.
Maintenance 
Experts throughout the industry recommend performing maintenance on your system at least twice a year. Once after the leaves descend in the fall, and once again near the end of spring. If you'd like to forego this entire process, then perhaps you should have gutter guards installed.
Gutter Guards
Have you ever asked yourself: Should I get gutter guards? Well, the answer is yes, you definitely should. All types of gutter guards essentially perform the same task: prevent pine needles, sticks, and other small debris from entering your troughs, while letting water easily pass through.