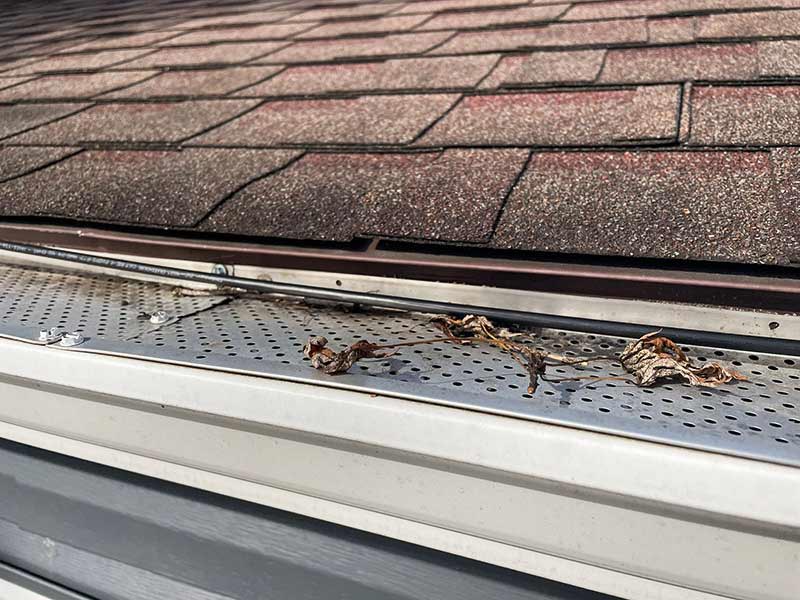 Fairfield, Ohio Gutter Services
It's imperative to keep a solid gutter system in Fairfield, Ohio. To avoid any possible damages to your gutters and downspouts, you'll need a reputable roofing contractor.
You'll find that our team at West Chester Roofing has the experience and knowledge to properly install, repair, or replace any gutter system.
Damages
A neglected system can lead to several different issues. So we've listed some of the most common damages our team comes across in Fairfield, Ohio:
Mold and Mildew –

Clogged gutters are the breeding ground for dangerous mold/mildew to develop.

Basement Flooding –

Water can leak down into your basement and the lower areas of your home when it overflows from your system.

Yard Erosion –

Your yard can slowly erode over time when water flows from your system down onto the ground.

Discoloration –

 

When water leaks from your gutters, it will seep into your siding and slowly stain and discolor it.

Insects –

A clogged system is the prime breeding ground for several different kinds of insects. If left unattended, a few bugs here and there may transform into an infestation problem.
Types of Gutters
West Chester Roofing performs gutter installations on several different types of materials and systems. Below we've listed just a few of the more popular systems, along with their advantages and disadvantages:
Aluminum –

Due to its affordability and easy installation, aluminum gutters are becoming more popular every day. The only exception is that they can become easily damaged during harsh storms, winds, etc.

Steel –

For those interested in durability, we'd recommend steel materials. However, they are also a bit more expensive.

Copper –

Copper gutters are extremely durable and look great from the curb. But just like steel, they do tend to be more pricey than other materials.

Vinyl –

Vinyl gutters are a great choice for those who want to stay within budget. Just like aluminum, vinyl materials are cheap and easy to install. Although, they're not recommended for colder climates, as the weather tends to crack these systems easily. 

Wood –

West Chester Roofing does install wooden systems, but they're only recommended for older/historic homes, where matching the property is the first priority.
Maintenance 
We recommend performing maintenance at least twice a year, once in the spring, then next time in the fall. You can always contact our team if you don't want to perform this process on your own, but you can always skip this process by installing gutter guards.
Gutter Guards
All types of gutter guards reduce all necessary maintenance, are corrosion resistant, and extend the lifespan of your system in the long run. If you'd like this product installed, or have more questions, give us a call.