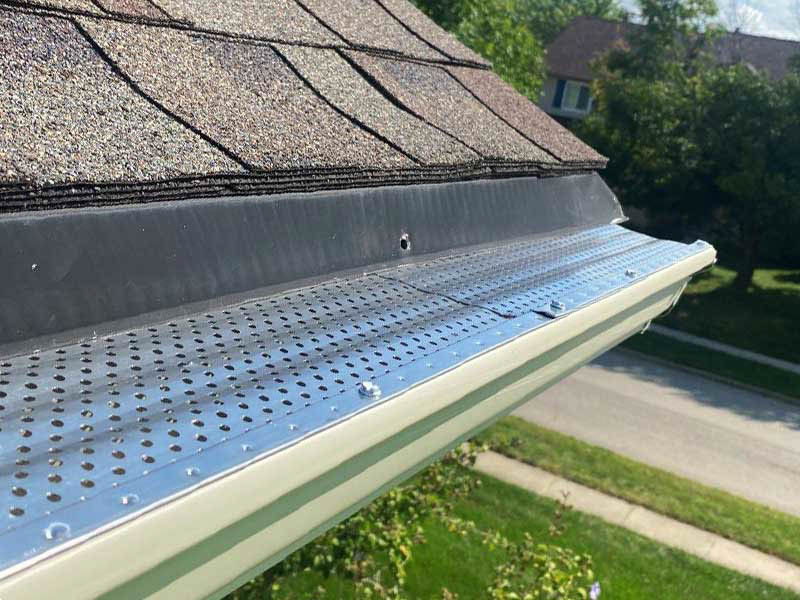 Hamilton, Ohio Gutter Services
It's very important to have a good gutter system in Hamilton, Ohio. After all, your gutters and downspouts prevent roof leaks, clogging, and several other issues. That's why we at West Chester Roofing carry the best roofing products and materials. If you're unsure regarding the condition of your gutter system, contact our team today for a free consultation or evaluation!
Damages
When there's an issue with your system, it can cause several issues with your roof, siding, and yard. We've listed just a few common damages due to gutter issues below:
Mold and Mildew –

If left alone, standing water can lead to the origination of mold/mildew, which can eat away at the structure of your home.

Basement Flooding –

When water isn't pushed far away enough from your downspouts, it can pool up and slowly flood your basement.

Yard Erosion –

Water that drains from your gutters will eventually erode away your yard.

Discoloration –

Overflowing water can cause the siding of your home to discolor and warp.

Insects –

If left alone, standing water can attract all sorts of insects.
Types of Gutters
West Chester Roofing carries several different types of materials, each having its own set of advantages and disadvantages. Below we've listed a few of the most common types of materials used:
Aluminum –

This option is the most common across the country for its easy installation and maintenance, as well as its affordability. However, aluminum gutters systems can become damaged much easier when compared to other materials.

Steel –

Steel is another popular option that is extremely durable and adds a great amount of curb appeal, but can tend to be expensive.

Copper –

Copper gutters are also very stylish with excellent durability, but can be costly as well.

Vinyl –

Just like aluminum, vinyl gutter materials are affordable and easy to install. But they are also more easily damaged, especially in colder climates.

Wood –

We have wood gutter available, but they are primarily installed on historic buildings where the style of the structure is more important than costs and maintenance.
Maintenance 
Leaves, pine needles, and other kinds of small debris can back up and clog your gutter system. In order to avoid this, experts recommend performing maintenance and gutter cleaning at least twice a year; once in the fall, and once in the spring. However, this process can be eliminated by simply installing gutter guards.
Gutter Guards
All different types of gutter guards essentially serve to do the same thing: prevent the build-up of debris in your system, while still allowing water to pass freely. In particular, the most common material for these is stainless steel micro-mesh gutter guards. But no matter what type of system you decide to go with, you'll notice the benefits immediately. 
If you're interested in installing gutter guards in Hamilton, Ohio, contact our team of expert roofers at West Chester Roofing today!