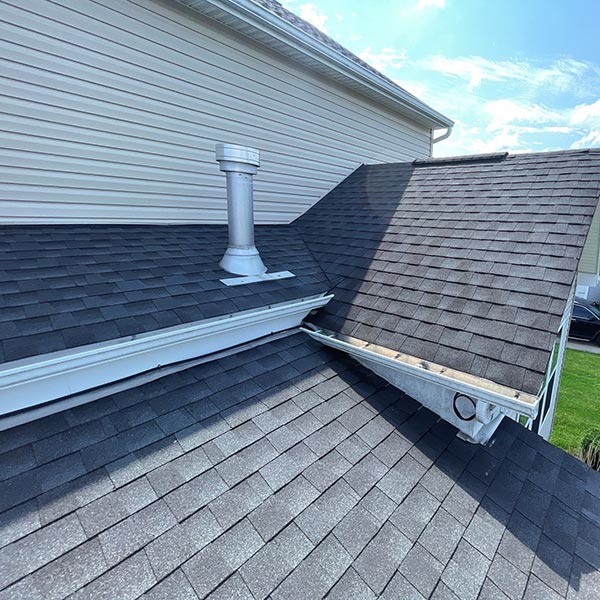 Mason, Ohio Gutter Services
Any good roofing contractor in Mason, Ohio will tell you just how important it is to have a quality gutter system. By keeping your gutters and downspouts in top shape, you'll avoid tedious repairs on your rooftop and siding. Should you ever need gutter repairs anywhere in southwestern Ohio, you'll find that West Chester Roofing has everything you need.
Other gutter installers in Mason, Ohio don't have our top-of-the-line roofers, high-quality materials, products, and generous warranties. Contact our team today for a free comprehensive report of your property!
Damages
The smallest debris can build up and clog your gutters over time. When this happens, there are several damages that might occur. Here are just a few of the most common damages that can happen to your system:
Mold and Mildew –

Any still water can lead to the development of mold/mildew. This is something you'll want to avoid, as mold/mildew can eat away and damage the structure of your roof. 

Basement Flooding –

When water pools at the base of your home, it will eventually seep into the basement.

Yard Erosion –

Your yard suffers over time from the runoff of your system.

Discoloration –

When water from your gutters overflow, your siding is at risk of losing its color and curb appeal.

Insects –

Stagnant water attracts all kinds of unwanted insects and pests.
Types of Gutters
Each different type of gutter material has its different pros and cons. West Chester Roofing carries a variety of materials, colors, and different styles of gutters. Here are some of our most popular materials:
Aluminum –

Aluminum materials are very common due to how easy they are to install, how cost-effective they are, and how tough they are for their price. However, they do become more easily damaged when compared to steel or copper.

Steel –

Steel is extremely durable, but tends to cost a bit more when compared to other materials.

Copper –

Copper gutters are also very durable. They also have great curb appeal, but just like steel, they tend to be a bit more costly. 

Vinyl –

Vinyl gutters are popular because they're extremely lightweight and affordable. Just like aluminum, they can also become damaged more easily when compared to other products. However, vinyl isn't recommended for colder regions; it cracks in colder climates.

Wood –

Wood gutters are available but our roofers mainly install these on historic sites where matching the aesthetic of the home is more important than any repairs or maintenance.
Maintenance 
It's important that you check your system regularly, and at least twice a year. Experts recommend performing maintenance once in the fall, then once in the spring. Of course, if you'd rather hire a contractor to take care of the matter, our roofers can handle the matter easily. 
However, there are some cases where the system is beyond maintenance. If you're looking for a gutter replacement in Mason, Ohio, contact our team of roofers at West Chester Roofing.
Gutter Guards
By installing gutter guards, your system will be able to block all small and large debris from entering the trough. There are several different types of gutter guards, ranging from micro-mesh gutter guards to simple gutter covers. Whichever you decide to go with, you won't be disappointed with the results.